Les Chuchotants
by Kasia Lewinska
5 December 2020
The following article is a description of my personal experience working on an extremely exhilarating project 'Les Chuchotants' in a team with Giulio dal Lago, Maina Joner, Margot van der Saande. The project can be navigated virtually using the interactive window below, although it is best to do it on site, in a magical, luxembourgish forest. 'LesChuchotants' is a part of an artistic trail around Luxembourg called 'Another View of Nature'.
To listen on-site visit https://sonicmaps.xyz/player/?p=245
THE ROOTS
The idea of the project started long ago, but was not very precise. It started from the wonderful artistic residency Antropical 2019 that took place in a forest in Steinfort (Luxembourg). I wrote an interactive project called 'How to talk with trees' and we have performed it together with Maina Joner. Giulio dal Lago, a sound artist that was also a part of the residency, had a beautiful idea that didn't happen then but in a way came to life in this project. It was about hiding little speakers in the trees and having them whispering some short messages to the passers by. We went deeper into the forest to have some privacy and Giulio left me with a speaker and I improvised some speeches as some unidentified forest creatures. This project got dropped then, but what I said there became a root of my text's emotions and a letter from a tree friend that are located in a tree cluster.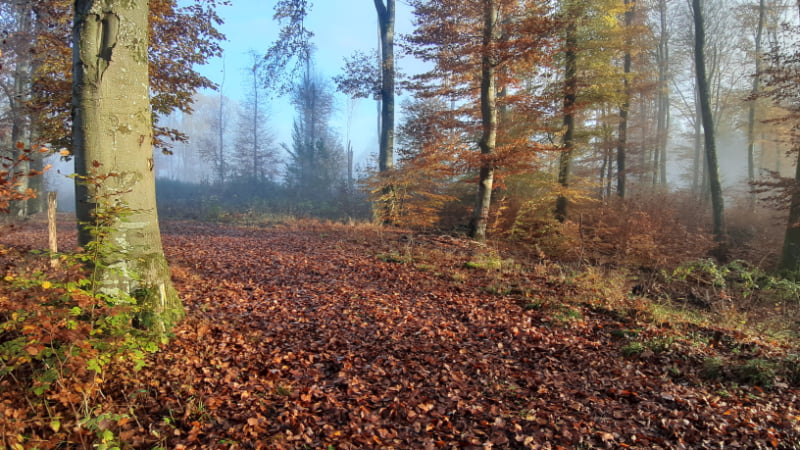 After coming back from the residency, I became even more in love in trees and I was planning to write a book of stories about the trees in the park next to my house, but before I did had a free time space from work, Antropical together with Mirador made an open call for a project based in a lovely forest of Luxembourg. Giulio reached out to me and we have applied together. After that they teamed us up with Maina Joner who also applied with an audio tour and Margot van der Saande who wanted to work on a podcast. Then the fascinating and stormy work has started.
THE TRUNK
Working online was difficult, as talking through the internet is exhausting. Following a group chat was another, almost separate job to do. If you missed anything, went offline for a moment, it was almost impossible to catch up. We quickly started to have some code words for places, like 'the tree place', which is a bit hilarious, as all the audio tour is in the forest ('the tree place' is a place with a tree etiquette and trees and forest creatures talking as themselves). The four of us -coming from Antropical that puts value into collective- did not divide into any specific roles, but later in a game everybody got something for themselves- some would focus more on creation, some more on supporting organisations etc. From the beginning it was pretty clear who will lead as a sound designer, as Giulio dal Lago, as a sound artist, is the most competent of us in the field.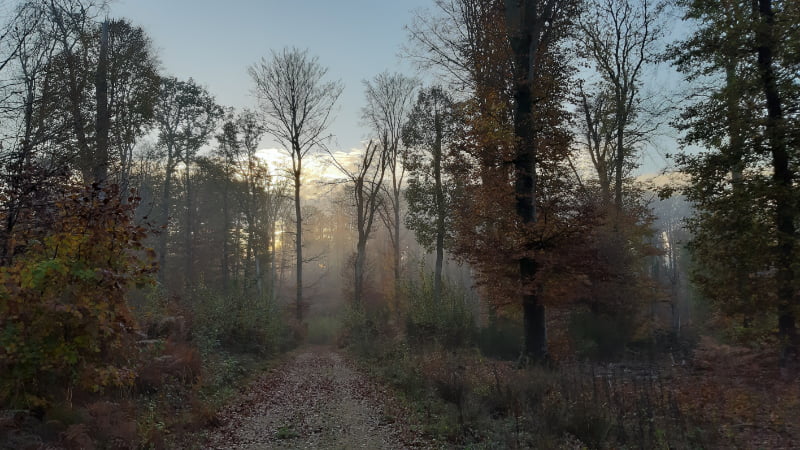 The first thing that shaped the project was location scouting done by Maina Joner together with the directors of the residency (that live in Luxembourg): Clio van Aerde and Aurelie D'Incau. There was a route predestined for the whole trail as our audio tour was supposed to be just a part of a trail composed of different art projects on the way, however we could stop almost wherever. After this first scouting we got lots of pictures and we could start. As I was very active at the very beginning of the project, I got to concept big parts of the audio tour like the storm and the wasp place. The idea for them was very site specific as in the storm place, there simply was an enormous storm a few years ago that left its mark on this part of the forest shaping trees into partly broken, partly dead (but still with life blossoming around) alien like creatures. The wasp place started from the fun fact, which are the wasps that make little cocoons on the leaves. It felt very peculiar, so I wrote a cluster about this lovely and tender coexistence. Our third cluster is the tree place and we all knew from the very beginning that we want to have, as, at the very beginning of our conversations, we decided that it's mostly about the forest speaking and the tree place is the most literal example of that. Some texts that happen in here are the rewriting of old texts, like the whole tree etiquette is rewritten from 'How to talk with trees' and 'a letter from a tree friend' and a tree that is wondering about emotions is rewriting last year's improvisation with Giulio. In the cluster there is also a text about the hedgehog by Margot van der Saande that is a one of the most site specific parts in this location, as it illustrates the road that is becoming more urban from the forestry one (even though a text wasn't written for a location it fits perfectly). Another site specific part here is the melomaniac, so just a little creature that listens to the racing cars as to the music. This fluff was created in Luxembourg, when I was really tired working in this space and I found this lovely wooden tower- a great spot to enjoy the concert, a VIP sit (on the photo below).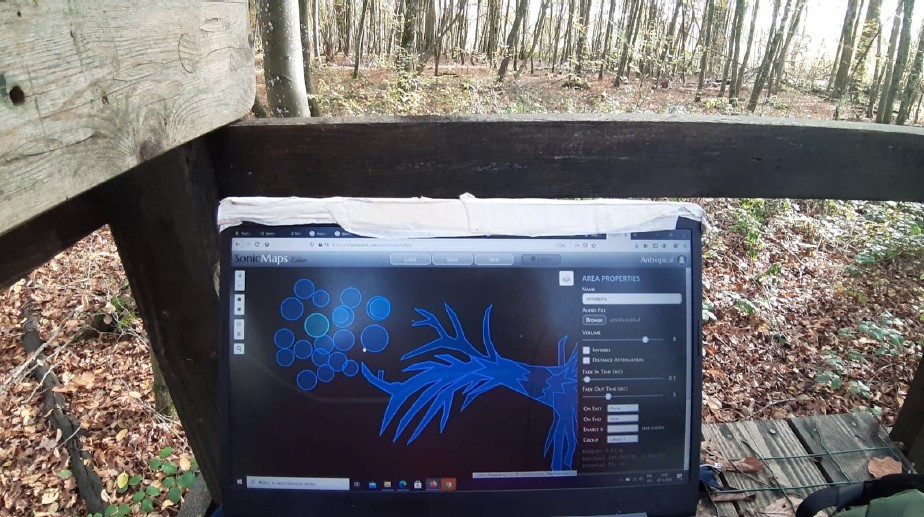 writing texts together
Part of working in the group was giving each other feedback on the texts which for me was very difficult, as I would get attached to what I wrote usually. But I believe that also standing by your opinion is important… So we had lots of heated up discussions... However , there were two lovely moments when collaboration on writing happened smoothly. It was when I got stuck in writing the central piece for a storm place and I wrote it too long with unnecessary dialogues and it was very helpful to ask someone else to try to finish. The edit did Margot and it was so much better! Later we also collaborated on the texts 'where do trees go after they die' that sadly we had to drop. It was a very interesting case of adding stuff to the subject on 'yes and' basis. I think the reason why those two cases were this smooth was the fact that we have quite different minds with Margot and we did complement each other really well in those texts.
why French?
The project 'Another view on nature' is composed of various art projects located in different places in the forest. They are mostly installations but not only. But they mostly communicate through the form, so they are accessible for everyone. With us, it was different, so we had to honor whom we are speaking mostly and those are locals. We weren't able to create this audiotour in Luxembourgish but we could do so in French as Maina speaks French. So our working language was English but all the texts were translated to French by Maina and recorded in French by our friends and new friends.
the texts that got dropped
Because of the time frame, at some point we had a limit, after which we couldn't add new stuff. Also some things that got written and recorded got dropped. Personally, I was the saddest about 'where do trees go after they die', the text about the river Eisch that is very site specific, so it can't be used by any other river and about a writing of none of us- a poem by Wisława Szymborska 'the Conversation with a Stone" (link to the poem). We wanted to place it by a lovely bench close to the Tree Place, but we didn't get permission from the French translators in time and the bench stayed empty. A very sad part about dropping the texts was not using all the recordings we received from people. And we received so much good energy from them, so it was really painful to drop things. We didn't had money to pay people for the recordings, so we would just ask people to do it 'for fun' and they would record on what they had, sometimes mices, sometimes phones. Some, like for example Bertram cjnodc would get crazy helpful and send us multiple versions and even some sound design. The people that collaborated with us on the recordings are: Bertram Piat, Thomas Calais, Olivier Jost, Celine Klein, Michał Jan Wąż, Misia Żurek, Florent Pallares, Aude Busson, Hacem Sahraoui, Jean, Tatjana Bladt-Cohen, Clio Van Aerde, Aurelie D'Incau, Elise Sanner, Othmane, Patrizia Duso, Alan Carlisle, Paul de Saint Jean, Sadie-Rae Werner, Abdelkader Temani, Abigail de Rancourt, Pamela Altabcharani, Melanie Hwang, Catherine Horemans, Thomas Ballesta, Regina Diaz, Gabriel Rivera, Marine Beuve, Odile Horemans, Camille Sanz, Benjamin Georges-Coles, Yohan Delaporte, Vittorio Sandri.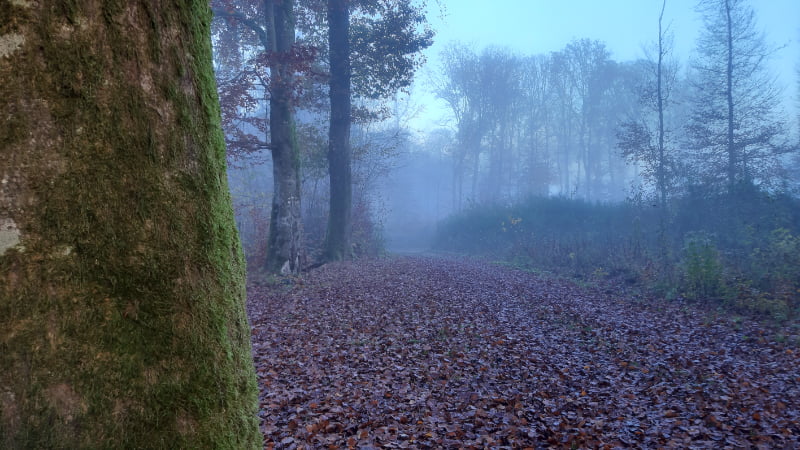 recording sounds
It was mind opening to first: thing about the sound spaciously and to try to foresee how people will compose the piece by their very individual movement. Secondly, for me, it was really ear opening, for all the sounds around me, on the bus, in a market, in the street or in my house. For a moment I got a little recording ADHD. Specially that an amazing team of kjcnkdsn came to my town and constructed some huge instruments. Also I started to harass people, that I knew, that had some microphones or some nice soundy toys. Also just playing with sonicmaps was a great experience as just a will to play with the interface provoked some ideas. Also, for someone like me -very analogue and without previous experience of working with the sound- it was extremely important that the interfecase is so easy. Unfortunately our gps aren't very exact, so some things imagined on the laptop, wouldn't work well in the field. But also checking how it works on the site compared to the screen was a great learning experience. A big problem in the work was obviously the pandemia, that resulted in working remotely most of the time. Only two of us would actually go to Luxembourg and two others (Margot and Giulio) will go in a brave new world, whenever this brave new world will happen. Maina Joner, that did another work for Antropical would be in Luxembourg quite often, which was really helpful, as she was our communication link with Mirador (project was organised by Mirador and Antropical) and she could ask about the things we had to check. There was always an opportunity that we wouldn't be allowed to use some space. Using the spaces you shouldn't use was one of my talents on Antropical 2019, when I would instinctively only take those spaces, like for example improvising the fake ritual by the frog lake in a middle of the night, just to be informed the morning after, that we really shouldn't disturb the frogs. So this time, we asked for all the spaces, to be more tender and polite towards the forest. Also, because of the specifics of the spaces, the project might disappear in the bushes at some point, especially the wasp place. Together with Maina we did lots of field work in August and then she came back with her family. The last checks I did in November and it seems it is a never ending story.
THE BRANCHES
The full road has 29 km, but our trip has some concentration points. The idea was to give another layer to the forest, not to take attention from the forest, that alone is full of beautiful compositions, whispers and emotions. So even with the texts that got dropped, there were lots of empty spaces to go from one place to another. It is possible that the audio tour will change with time, as the space will change. Also Giulio might get enlightened by the experience of the space as at the moment it's just mine and Maina's experience. So working on 'Les Chuchotants' is a work that has finished but small and slow branches (like writing this blog post for ex.) are still reaching out and they will.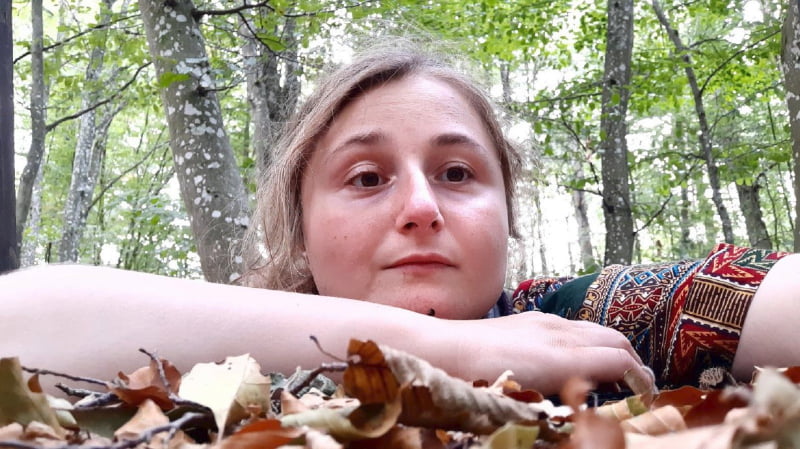 This project is now available at: https://recursivearts.com/sonicmaps/player/?p=245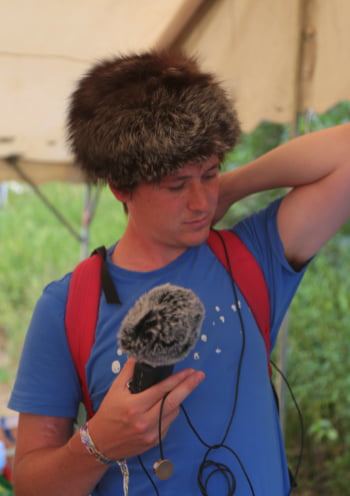 "As part of the team that created "Les chuchotants" audio tour, I was in charge of music composition and sound editing of the voice recordings. Discovering Sonic Maps has been a chance for me to explore new ways to create aural experiences for an audience. The platform allowed me to think spatially about composition within the limits of the website itself. I have explored sound, movement and site-specificity in different ways in my practice, but this time I was completely detached from the locations for which I was producing the compositions, since I couldn't travel from the UK to Luxembourg due to coronavirus restrictions. Moreover, the locative functions of Sonic Maps offered the incredible possibility to fix sounds in specific spots, anywhere in the world map, which for me was an unprecedented experience as a form of presentation of sounds in digital form. I never approached composition in such a way before and it was incredibly fascinating, stimulating and challenging. The results of the sound pieces were all the final outcomes of long discussions and on-site testing that could only happen through the amazing group involved in the project. Every piece would be very different if one of us wasn't there so I am very grateful for everyone's work and for the amazing support of the Sonic Map team."
Giulio dal Lago