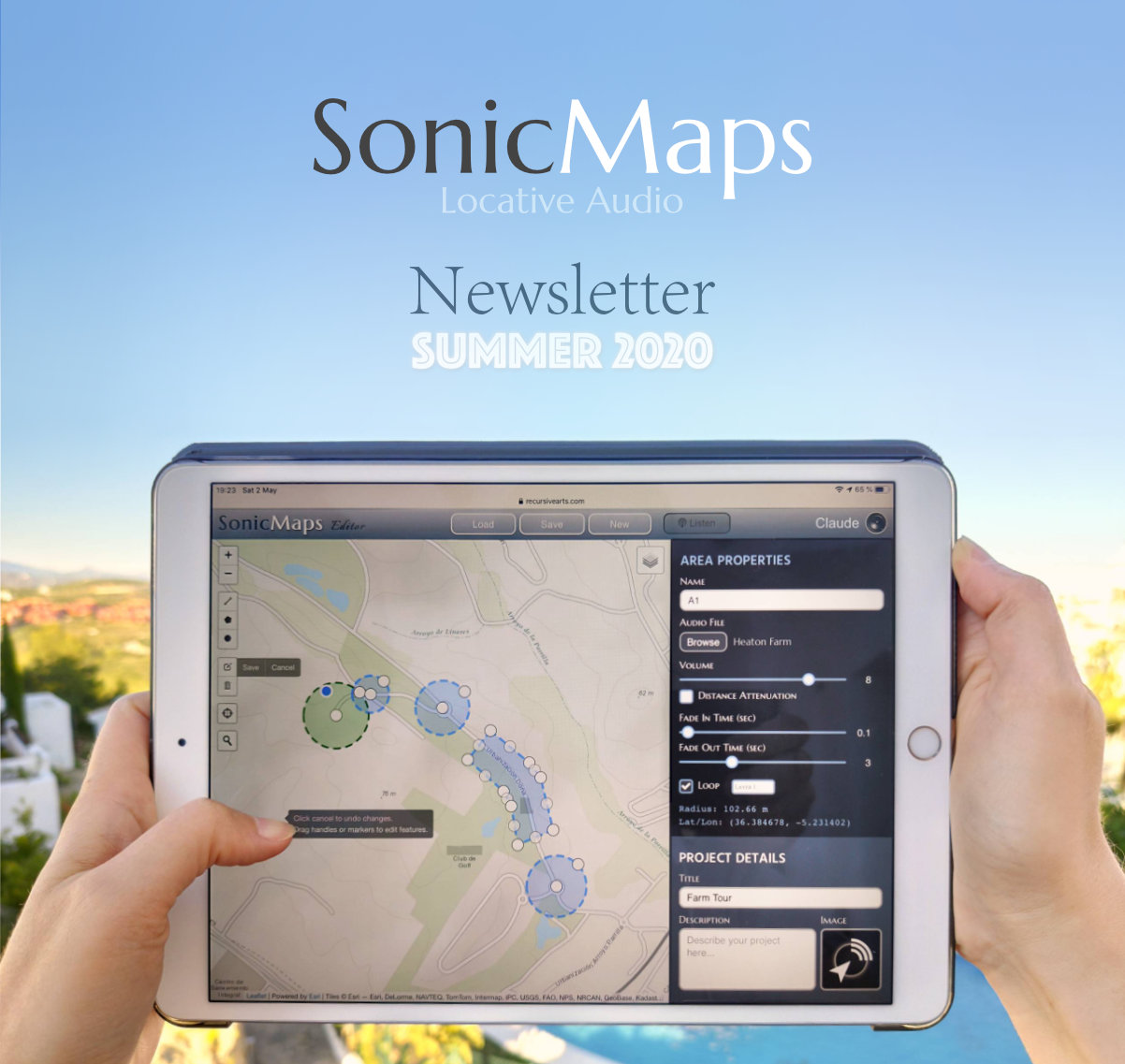 The summer season is finally here for many of us and we hope you are all staying safe and well. We've kept ourselves busy during the last few months trying to bring new exciting features and improvements to the SonicMaps platform so you can make the most of it now that the lockdown measures seem to be easing in many places.
SonicMaps Editor
On-site Editing. When running on an iPad or Android tablet, the SonicMaps Editor is now capable of using your real location to trigger sounds as you build and test a project. This is useful to predict positioning errors caused by GPS signal reflections on surrounding structures so you can adjust your sound areas accordingly.


Batch Uploading/Sorting Options. Upload multiple audio files to your sounds library and sort by name or date. Your projects list can also now be sorted by PUID, name, number of visitors or current status.


New TTS languages. We added Danish, Dutch and Polish to our list of WaveNet voices for speech synthesis.


Geocoding Service. Search for a location based on address.


Fixed map going out of bounds


SonicMaps Player
Progressive Web Application. Version 2.1.5 is now PWA compliant. Users can install the Player app by simply adding a shortcut/icon to their home screen and enjoy a full-screen, native-like experience.


Offline Mode. Save any project to your device for offline playback. This option is particularly useful when soundwalks are located in remote natural areas with poor cell phone coverage.


Play/Pause Button. We know unexpected interruptions happen so we've added a button to pause or resume an audio tour once started.


Project Sharing Options. A native share dialog is now available on mobile devices (Android/iOS) and Safari(OSX). Share any soundwalk via email or social media.


Wake Lock. Automatically prevents the system from turning off the screen during an audio tour.


Route Tool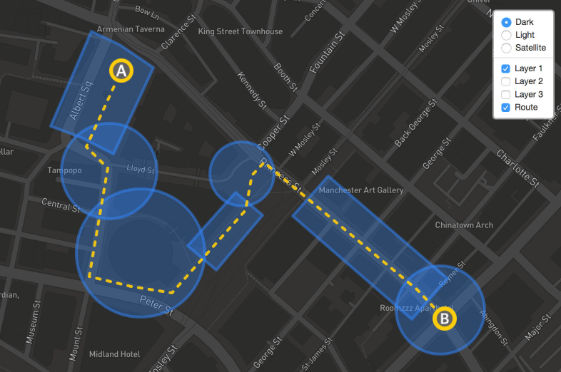 Drawing routes is now possible in SonicMaps Editor, for those projects where sound areas require to be explored in a specific order (e.g. linear narratives, storytelling). These routes are then displayed in the SonicMaps Player to guide your visitors.
Distance attenuation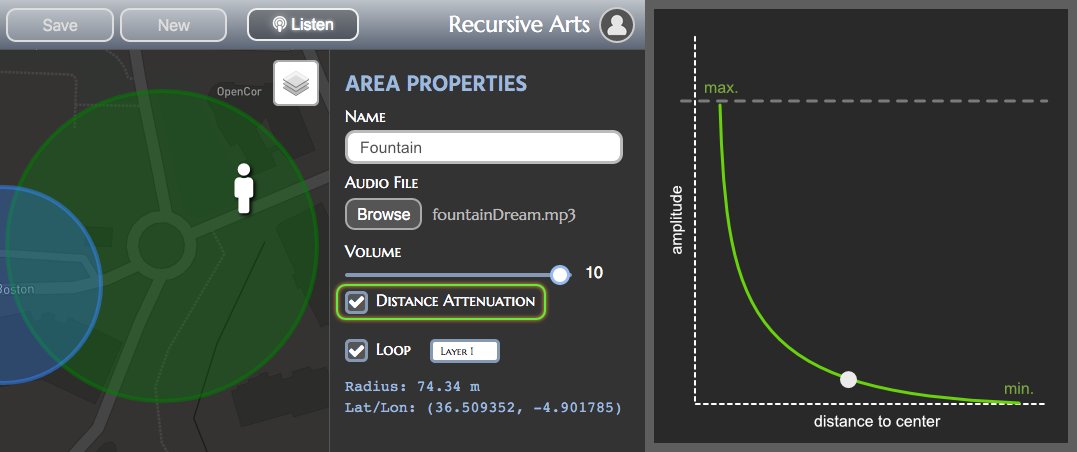 Increase listening immersiveness by using our new option to simulate signal amplitude attenuation depending on distance from the audio source. When enabled, the perceived loudness decreases as we move away from the center of the circle just like real-world sounds.
GET STARTED
Recent Projects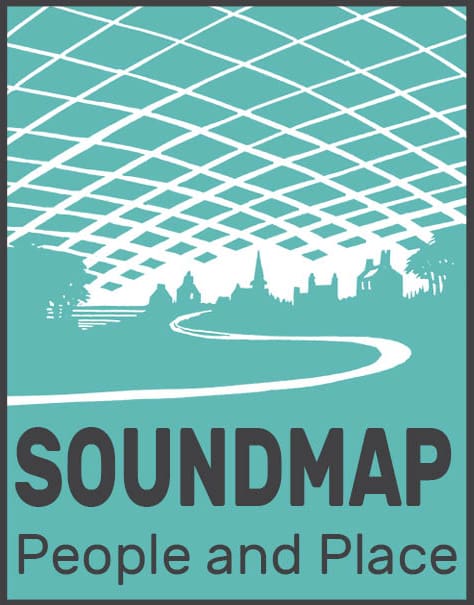 Soundmap: People & Place
Discover these six unique soundwalks in north Aberdeenshire where school pupils, local writers and volunteers worked with artists
Pete Stollery
and Bryan Angus to capture the sounds and memories of these great communities.
The walks have been designed to be enjoyed by individuals or family groups as a fun and interesting way to spend time outdoors and reconnect with places in the local community.
"Passing Banff Pet Shop brings back tales of a beloved but naughty hamster and the tinkle of the ice cream van, even heard through strong coastal winds, can't help but raise a smile."
More details at
https://www.livelifeaberdeenshire.org.uk/arts/soundmap

Kävely Kino (Walking Cinema)
Helsinki-based choreographer and performer
Iiro Näkki
presents a 75 minutes soundwalk referencing three award-winning Finnish art films. These scenes are united by listening to the city through the eyes of the choreographer.
https://sonicmaps.xyz/player/?p=204
Thank You
As a member of the SonicMaps community, your support helps us with the continuous improvement and development of the apps and platform. We try to provide the best possible experience for every user by hosting your audio and data files in high-end dedicated servers with daily backups. At the core of our misssion is the long-term preservation of location audio projects and the creation of a public archive that will stand the test of time.
It is of extraordinary importance for us to hear from our creators so if you have any suggestion, please get in touch!